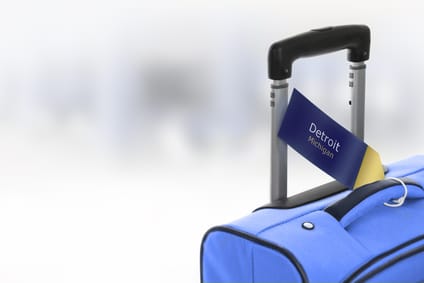 Traveling in general can be a stressful experience. While a select few can show up to the airport just before their flight and breeze right through security stress-free, most others cringe at the fact of not being in control of their own travel schedule. When traveling for a wedding, things get even more serious. With a strict schedule to adhere to and extra luggage for the formal event, those who aren't keen on travel to begin with can become a little overwhelmed.
If you are having a wedding in the near future with guests coming in from out of town, there are some steps you can take to ease their wedding travel worries. Having a recommended hotel is a great place to start, but you can take things a step further if you really want to help your guests out. Having Detroit Metro Airport limousine service pick up and drop your guests off at the airport can be the perfect way to make sure your guests feel right at home when visiting the great city of Detroit for your big event. If you haven't considered getting your out of town wedding guests their own luxury ride from the airport, here are some things to consider.
1. A Professional Driver Will Keep Your Guests Safe
With an experienced chauffeur licensed and trained to operate the luxury vehicle your guests will enjoy, you wont have to worry about your guests' safety when navigating unfamiliar territory. With Detroit Metro Airport limousine service, safety is a top priority of any assignment. If you have elderly guests coming in from out of town, this could be even more of a concern as it tends to get dark fairly early for the duration of the winter. With their own chauffeur, your guests will have no worries from the moment they land.
2. A Limo Keeps Your Guests Comfortable
If you haven't been in the back of a limousine for a while, you may have forgotten how luxurious of an experience it is. If you have, you probably don't need any reminding. By getting your guests their own Detroit Metro Airport limousine, they'll be enjoying their luxurious ride as they are taken away to their hotel for the weekend instead of them trying to navigate unfamiliar territory in a rental car. If you were going out of town for a wedding, which experience would you prefer to have as your first for the weekend?
3. It's a Fabulous Way to Kick Off the Weekend!
Your guests coming in from out of town are probably super excited to see you make this big step in your life. However, they probably also want to enjoy themselves too! By getting them a Detroit Metro Airport limousine, you're helping them get their weekend off to a great start. If you want to really show your gratitude, think about giving them their own bottle of champagne to open on their way to the hotel!
Reserve Detroit Metro Airport Limousine Service
To book a Detroit Metro Airport limousine for your out of town wedding guests, visit Rochester Limousine today by calling: 248-289-6665
Do you need limo service to take you from Royal Oak to Detroit Metro Airport? Be sure to read our article:
Book Royal Oak Limo Service to Take Your Guests to Detroit Metro Airport